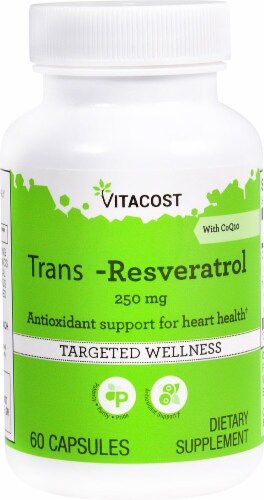 Hover to Zoom
Vitacost Trans-Resveratrol with CoQ10
Product Details
Trans-Resveratrol combines 250 mg of the most biologically active and studied form of resveratrol—trans-resveratrol—with 100 mg of coenzyme Q10 (CoQ10).*
Resveratrol is an antioxidant polyphenol found in grape seeds and skin and in red wine. It's normally produced by plants in response to environmental stressors such as drought, UV radiation from sunlight. As an antioxidant, resveratrol works at the cellular level to protect healthy cells from free radical damage.* Scientific evidence indicates that resveratrol is responsible for the cardioprotective properties of red wine.*
Coenzyme Q10 (CoQ10) is a fat-soluble, vitamin-like compound found in every cell of the body. It's used by the mitochondria ("power plants") of cells to produce energy. CoQ10 is found in highest concentration in cells of organs that require large amounts of energy, such as the heart. CoQ10 also functions as a powerful antioxidant.*
What are the key benefits of Vitacost® Trans-Resveratrol with CoQ10?
Resveratrol is a natural antioxidant for cardiovascular health.*
CoQ10 is necessary for energy production at the cellular level.
CoQ10 functions as a powerful antioxidant.*
CoQ10 supports healthy heart function.*
CoQ10 has the potential to maintain blood pressure levels already within normal range.*
Vitacost® Trans-Resveratrol with CoQ10 you is a targeted wellness solution - just for you.
Features trans-resveratrol—the biologically active and most studied form of resveratrol
Includes 100 mg of CoQ10 as natural ubiquinone
Contains 60 servings per bottle
Exceptional quality at an extraordinary value
Potency • Purity • Pride
*These statements have not been evaluated by the Food and Drug Administration. This product is not intended to diagnose, treat, cure, or prevent any disease.
---