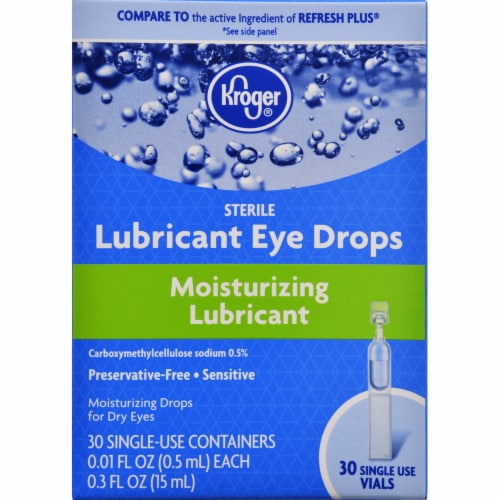 Hover to Zoom
Kroger® Moisturizing Lubricant Eye Drops
30 ct / 0.01 fl oz
UPC: 0004126037333
Product Details
Non-irritating, preservative-free Kroger Lubricant Eye Drops are an excellent choice for the temporary relief of dry, scratchy, burning, and irritated eyes.
Kroger lubricant eye drops provide soothing relief for dry irritated eyes, which can be caused by excessive heat, air conditioning, reading, medication or computer use. This special formula instantly moisturizes and may bring relief to dry, irritated eyes with a fast-acting, long-lasting formula for sensitive eyes that have many of the same healthy quality as natural tears.
This product comes in preservative-free, single use vials and is safe to use as often as necessary, so your eyes can feel good - anytime, anywhere, without the risk of irritation from preservatives.
Uses
For the temporary relief of burning, irritation, and discomfort due to dryness of the eye or exposure to wind or sun.
May be used as a protectant against further irritation.
Carboxymethylcellulose Sodium 0.5%
Preservative Free
Sensitive
Moisturizing Drops for Dry Eyes
30 Single-Use Containers
0.01 fl. oz Each
0.3 fl. oz
---