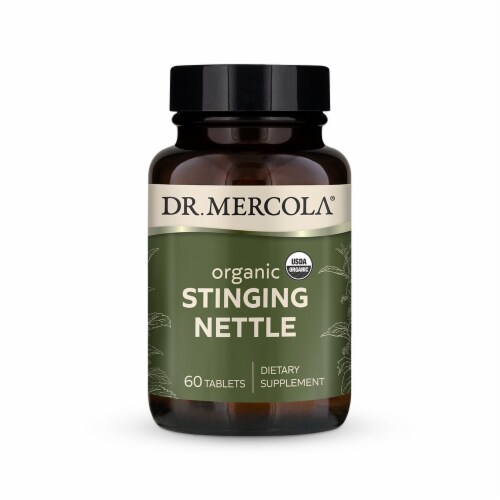 Hover to Zoom
Dr. Mercola® Organic Stinging Nettle Tablets
Product Details
Even though the remarkable health benefits of stinging nettle have been established through numerous studies, they are often overshadowed by the plant's unwelcome "stinging" properties. Yet, once it's processed into a supplement, dried, freeze-dried or cooked, this special herb is safe for consumption. Stinging nettle contains a significant number of bioactive compounds. The leaves alone are rich sources of terpenoids, carotenoids and fatty acids, as well as of various essential amino acids, chlorophyll, vitamins, tannins, carbohydrates, sterols, polysaccharides, isolectins and minerals.
In both human and animal studies, this potent botanical has been shown to help support:
Immune and seasonal health*
An already healthy inflammatory response*
Joint comfort and muscle strength*
Blood sugar levels already in the normal range*
Healthy blood flow*
Normal detoxification processes*
Male prostate*
A healthy liver*
Sourced from whole-food stinging nettle leaves, USDA Certified Organic Stinging Nettle is produced by a trusted manufacturer with extensive experience in processing high-quality stinging nettle and undergoes Botanical Identity (ID) verification testing to ensure its purity and authenticity.
*These statements have not been evaluated by the Food and Drug Administration. This product is not intended to diagnose, treat, cure, or prevent any disease.
---