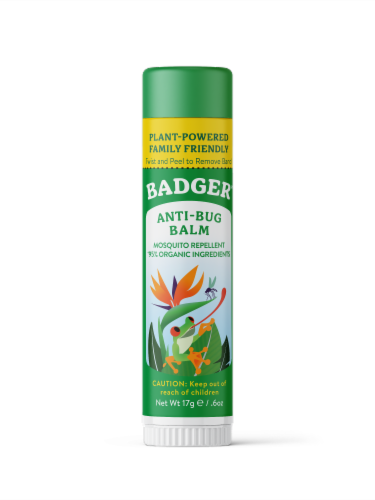 Hover to Zoom
Product Details
Certified Organic and 100% natural DEET-free bug repellent.
New travel size stick for on-the-go spot protection.
Independently lab tested to repel mosquitoes and stable flies.
Smells great and works great!
Perfect for use on wrists, ankles, and behind the ears—places mosquitoes love to bite
Great for use by the whole family.
All Badger balms are certified organic and petrolatum-free.
Good for the Skin. Bad for the Bug. ® Certified organic and all natural DEET-free bug and mosquito repellent in two sizes of easy-to-apply sticks. The very same product as our popular Anti-Bug Balm in tins, organic and all-natural citronella, cedar, and lemongrass, essential oils naturally repel biting insects. A base of organic extra virgin olive and castor oil soothes and softens skin. Smells great and works great; you won''t find DEET, petrolatum, or any other chemicals. Perfect for use on your wrists, ankles, and behind the ears—places mosquitoes love to bite. Great for use by the whole family
---