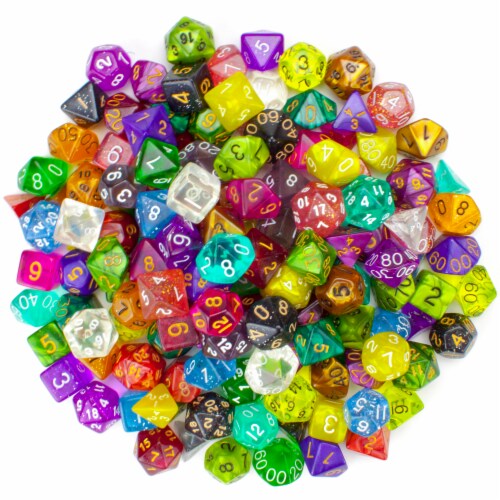 Hover to Zoom
100+ Pack of Random Polyhedral Dice, Series II
Product Details
Wiz Dice is back and better than ever. We'd like to introduce you to Series II: Alchemic Oddities, a collection of twenty marvelous new colors created with the help of the growing Wiz Dice community! We've included lots of fan suggestions for pinks, purples, teals, and glitter, and every new color was named by a community member. Inside our random 100+ packs you'll find over 100 random polyhedrals in over a dozen dazzling and mystical colors. To sweeten the pot, we now guarantee 15 unique sets of seven per bag. The only thing left to chance is which colors you get.
A set of 7 Wiz Dice contains one of each of the following polyhedrals: d4, d6, d8, d10, d10(00), d12, and d20. Our d4s use the classic centered number pattern.
Here's the complete run-down of Series II dice colors and the community member who named them:
-- Jade Oil, named by Leland House
-- Diamond Dust, named by Graham Cooper
-- Philosopher's Stone, named by J, the Old One - Novacom
-- Sylvan Spirits, named by Eldhrimer
-- Cloud Drop, named by Rachel Earp
-- Dragon Scales, named by Damian Nevers
-- King's Ransom, named by Bobbie-Leigh Trevino
-- Arcane Aura, named by Haley S. Hayes
-- Drowskin, named by Holly-Beth
-- Stardust, named by J, the Old One - Novacom
-- Swamp Ooze, named by Logan Castonguay
-- Basilisk Blood, named by Cathryn Stevens
-- Dwarven Brandy, named by Ronald Robert Hobbs
-- Faerie Fire, named by Emb0r
-- Boiled Bile, named by J. R. Parrish "Jerepasaurus"
-- Abyssal Mist, named by Wesley Harmon
-- Lucid Dreams, named by Lora
-- Mountainheart, named by Alex Greeff
-- Royal Bubblegum, named by Antony Haynes
-- Astral Echoes, named by Julie LaRoux

---
Product Reviews
Mariano's is not responsible for the content provided in customer ratings and reviews. For more information, visit our Terms and Conditions.